Free Rein
Guest Ranch Accommodation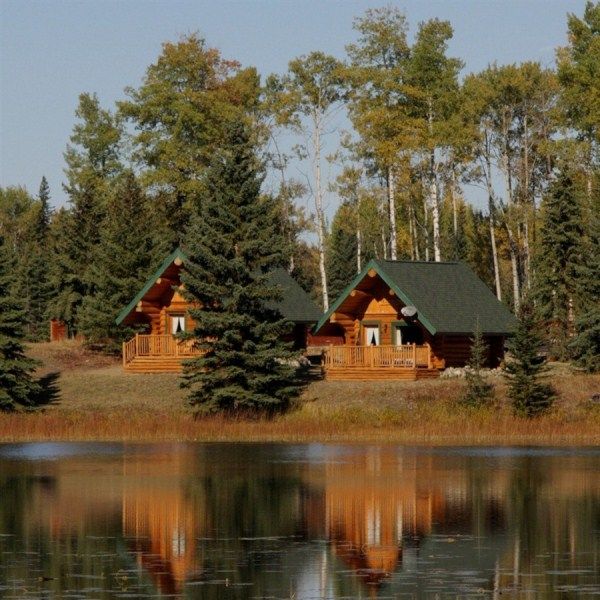 Lakeside Log Cabin or Lodge Suite
With a spectacular view of the surrounding Cariboo countryside from your very own deck, you will certainly feel close enough to nature staying in our accommodations. Whether a luxury suite in our beautiful lodge or a lakeside log cabin, we are absolutely sure you will feel right at home and always at the heart of our ranch family.
When you wish to enjoy some tranquillity and solitude, our lodging will provide you with the ideal sanctuary.
Sit back and relax on your private porch while nature unfolds her peaceful wonder especially for you. Deer, Moose, Beaver, Coyotes, Wolves and a variety of bird life are just some of the passing guests you may witness visiting our lake.
Nestled amongst the evergreens and overlooking the lake, our two charming cabins are comfortably furnished with private facilities. Each cabin has a private deck, private bathroom with shower and toilet, one queen size bed in the loft and two single bunks downstairs. Fresh Egyptian cotton linen and towels will be provided for your convenience. Each cabin also has a kitchen with microwave oven, hot plate, refrigerator and tea/coffee making facilities. Our cabins are centrally heated and can accommodate 2-4 people.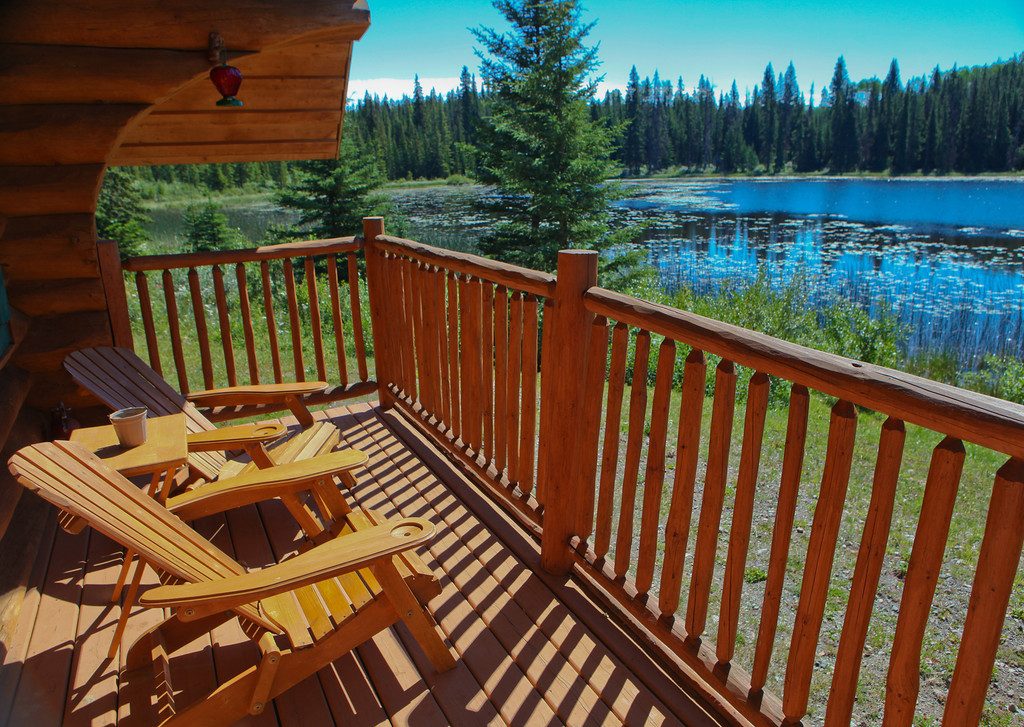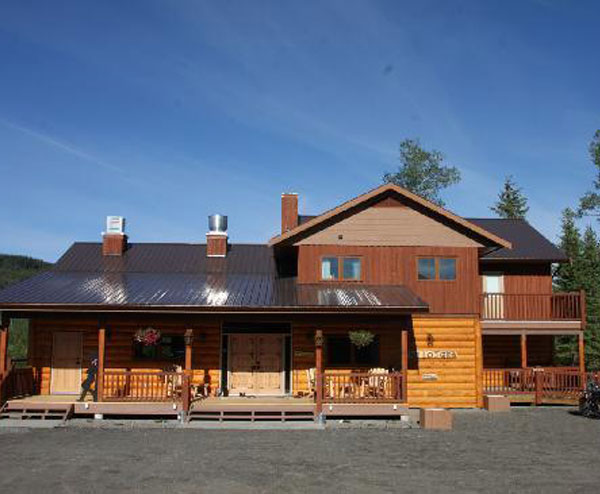 At the very heart of our ranch is our beautiful lodge, with views of the lake, corrals and our horses, you will surely not miss a single aspect of ranch life while staying in one of our luxury suites. Each of our three guest suites has a private deck and private bathroom with shower and toilet. Tea and coffee making facilities are also available in each suite. Fresh Egyptian cotton linen and towels will be provided for your convenience.
(Accommodates 1-2 people)
Our Ranchers' Suite has a private deck overlooking the corrals, barn and riding arena and has two double beds. Perfect for two adults sharing who are perhaps not a couple or for any couple simply wishing to stretch out in their own bed after a long day in the saddle, this suite could be for you!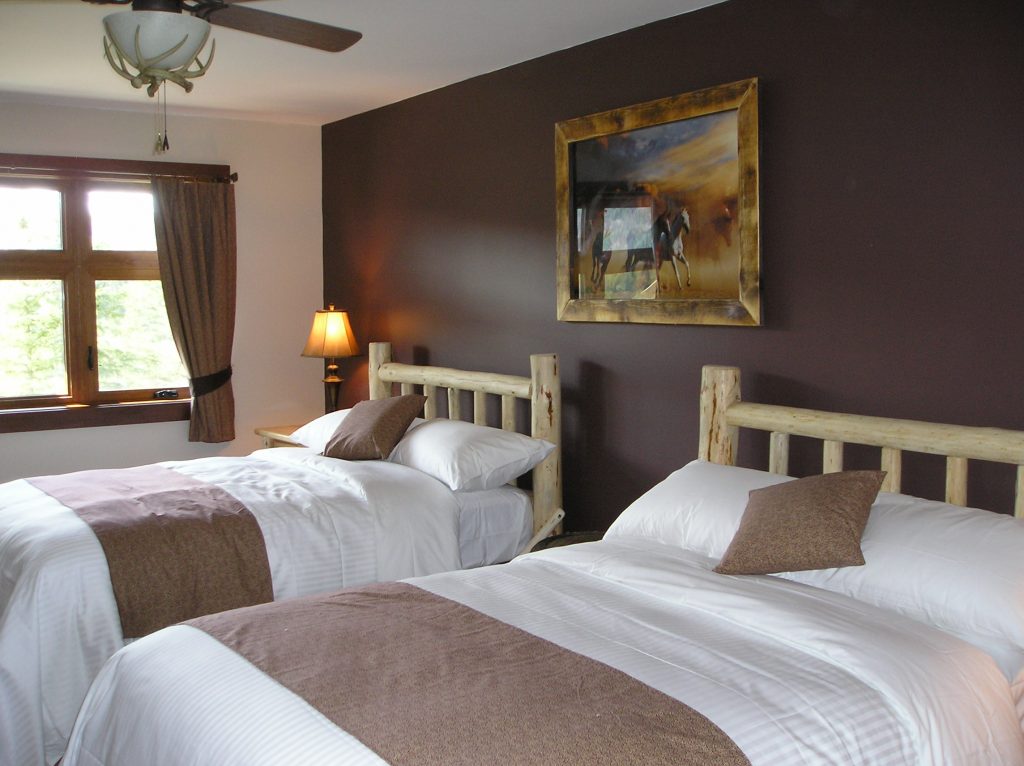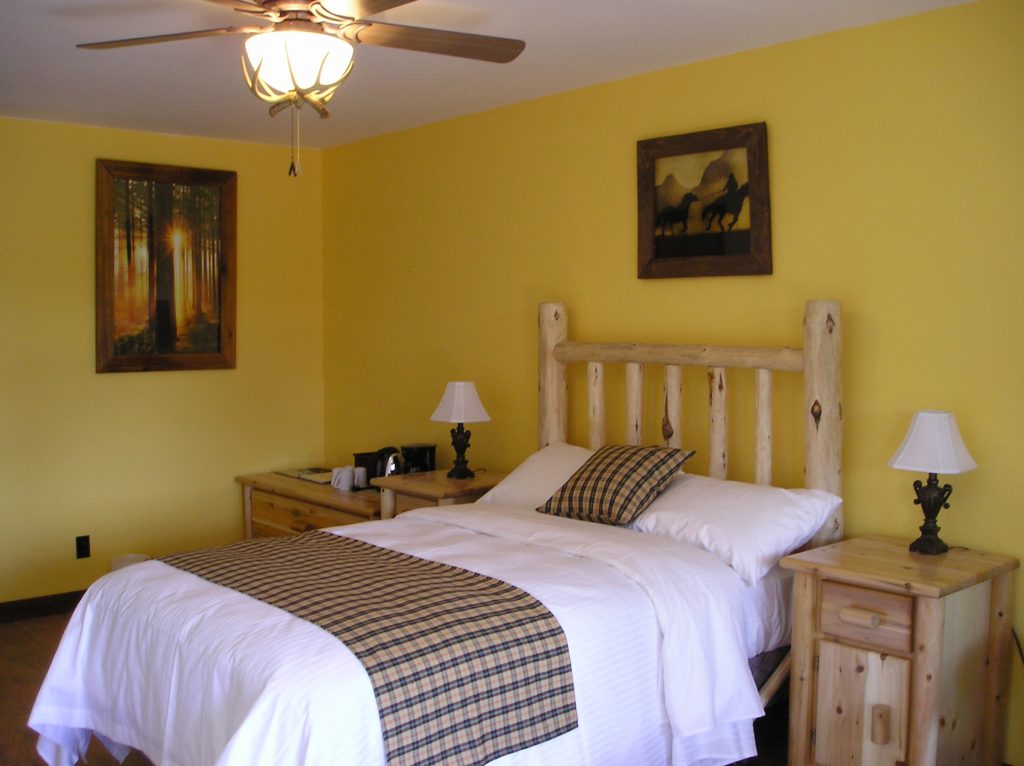 (Accommodates 2-5 people)
Our Family Suite has two bedrooms and a private deck overlooking the Lake. Bedroom one has a double bed and the second bedroom can comfortably accommodate 1 to 3 children.
(Accommodates 1-2 people)
Our Lakeview Suite has a private deck overlooking the lake and has one double bed. This suite is ideal for a couple and absolutely perfect when you are visiting alone.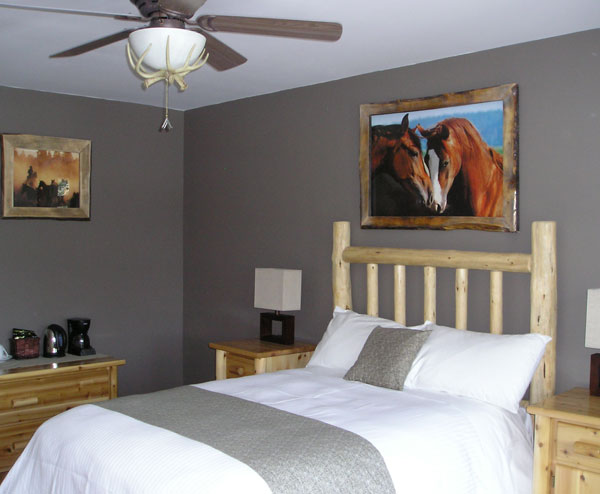 We serve family style and offer a hearty home cooked menu. We are more than happy to cater for any special dietary requirements you may have. Please just be good enough to let us know well in advance of your arrival so that we can cater to your individual needs.

Breakfast
Our buffet style ranchers' breakfast is guaranteed to set you up for your day ahead.

Lunch
Lunch will be served either at the ranch lodge in the dining room or out on the trail, depending upon your riding plans for the day.

Dinner
On the evenings when we dine at the ranch, we all sit down together and enjoy a three course meal in the dining room exchanging tales from the day.